3-26-2006: Norman Mangouni has provided 19 pictures from the 1961 camp session, which was a "trial session" that occured near Pellston at the UM Biological Station before the Alumni Association secured a site of its own. They are amazing. You can see them all here
I was informed of Glen William's work on the history of Michigania. It can be found at this link. The following is a brief treatment of the history as I know it.
When Walloon Lake was first formed by glaciers, Camp Michigania did not exist. The lake was known to natives as Muckwa Lake (1) which translated to Bear Lake. Tourists started building cottages on it when they came up to vacation from Chicago. There were, of course, no roads around the lake then. People would come in to the area and get off the train in Clarion. From there they would travel the one mile to Walloon Village where they could hop on steam ferries to get to their cottages. It was a great life. No plumbing, no electricity, thousands of bugs... ahh yes. When you wanted to go to the store you had to wait on your dock for the ferry to come by on rounds. By the way, the lake was renamed Walloon Lake after some Belgian settlers by a butcher named J. H. Hass after he saw the word on an old railway map (2). The area was also a large supply of lumber that helped build Chicago and Detroit. A few sawmills popped up on the lake. This is where Camp Michigania comes in. One of the sawmills was right in the swamp by South cabins 9 and 10. The structure known as "The Castle" is said to have originally been a brothel for the tourists from Chicago who came to the area for recreation. Anyway, the sawmill explains the massive amounts of random wood at the bottom of the lake off shore from south camp. The heels of the logs were discarded there and there they rest. There were rock cribs where log transports could dock and load. At some point, the sawmill closed.
The maintenance barn is said to have been originally built as a barn for pickle farm. The "Farmhouse" and "The Castle" were thought to have both been originally built as actual farmhouses.
Camp Sherwood was put into action as a boys camp. The dining hall was built along with the nest, the log cabin, and many buildings that are no longer. I have a brochure from Camp Sherwood digitalized and have it available here [2.8MB pdf file]. It's very interesting and you can recognize old parts of camp if you're sharp. Then, in 1962 the Michigan Alumni Association bought the camp and you know the rest.
Lyle Taylor has mentioned that he remembers when the camp was Camp Sherwood because he grew up just down the road and actually worked maintenance at Camp Sherwood as a boy. The maintenance barn was actually the barn that held the horses for riding!
Again, please update me about any additions or inaccuracies that you know about to this poor treatment of a rich history.
The history of Maintenance Staff:
Ron Powers
Larry "Herm" Bergman
Joe Quigley
Don Roberts
Lyle Taylor
Mark Shaltz
Lester Stark
Matt Blandford
Camp Directors:
1961-62 Rodney J. Grambeau
1963,1971 William Stegath
1964-67 Glen Williams
1969-70 Glen Thomet
1972-77,80-85 Jack Birchfield
1978-79 J. Scott Fleming
1986-2001 Greg Fleming
2001 William C. Bourdon
2002 Belinda-Jayne Davis
2003- * Mitch Rosenwasser
That's all for history for now. It's obviously very rough. Please contact me with stories or facts and I will publish them. Contact me here.
As for the rest, I offer you many pictures that I've digitalized from around camp:
Mark Shaltz found some old posters in the Ed. Center in summer 2005. I took pictures of them with my lowly 2.0 megapixel camera for your viewing pleasure. If you can identify anyone in the pictures, let us know! I have the high-res copies of these pictures and you can see the originals in the maintenance barn.
Mark was going through some more pictures from WAY back in the day and I grabbed them to scan in. Some are from 1963 or older! You have to check these Camp Michigania pictures out! High resolution versions of these coming in September 05.
| | |
| --- | --- |
| These people are helping make benches. Maybe this is during an early Memorial day work week. | Caption: "Archery 1967" |
| This looks like north camp to me, but I'm not sure. | April 1963. The maintenance barn was actually the riding barn back in the 60s. |
| Here's a Preston Feather truck working on camp in April 1963 | April 1963. I don't know what ANY of the buildings are here. Can you help? |
| Here you can see the old long barn and the horse pastures. | Mark said something about this being Jack Birchfield. |
| | 4th of July 1980. Notice the lack of trees on welcome hill! |
| | |
| This looks like the old stake truck and the dining hall. No date. | Wow. Here's the nest and log cabin. There are absolutely no trees there at all! |
| Here's a shot from up by today's riding I think. | |
These next pictures were found in an envelope with a note dated August 5th, 1977 which leads me to believe that the following pictures are from 1977 or earlier. They were originally provided by Karen Dergis to Jack Birchfield.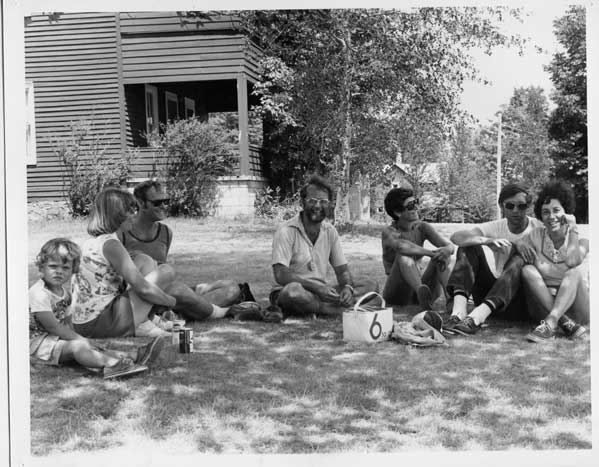 "Waiting for the lunch line to diminish. Eric Dergis, Muriel Kelley, Bill Dergis, John Waidley, Sue Fisher-Kersch, Lee Kelley, Georgene Rutzky"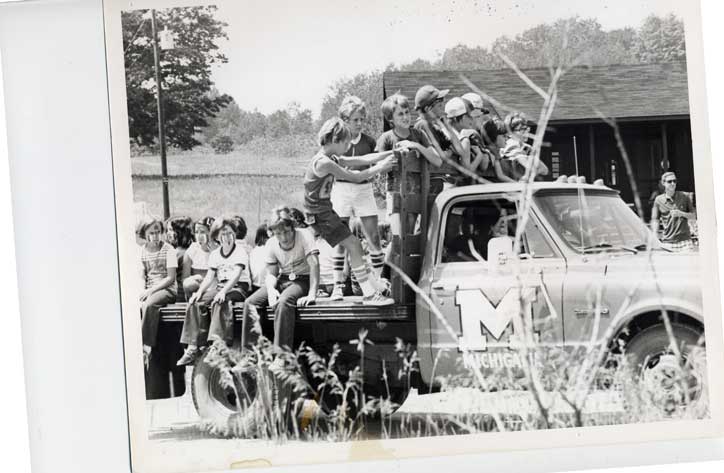 These are the ten year olds on a truck during Fourth of July.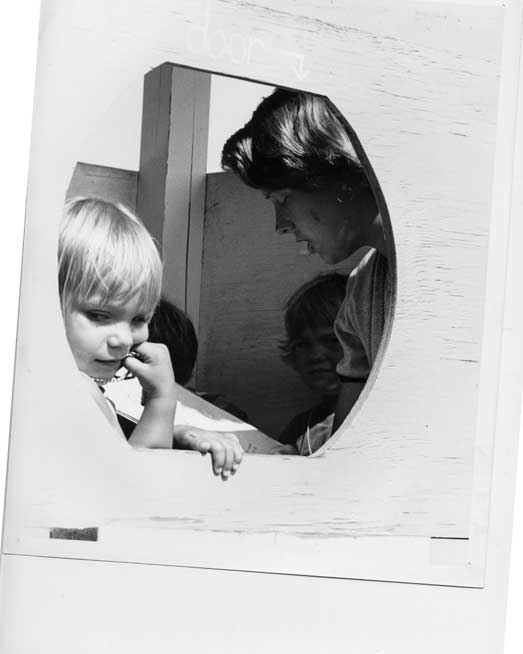 "Story time for the 3-4 nursery"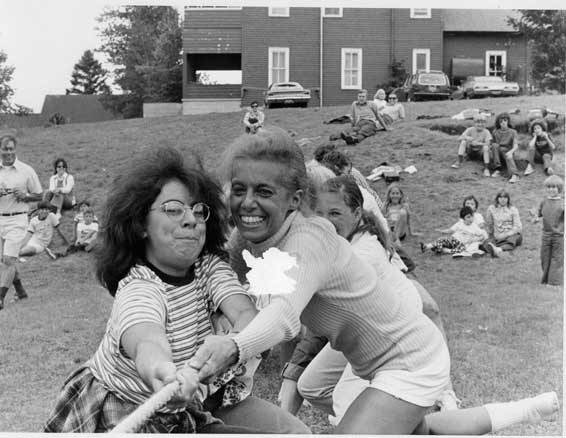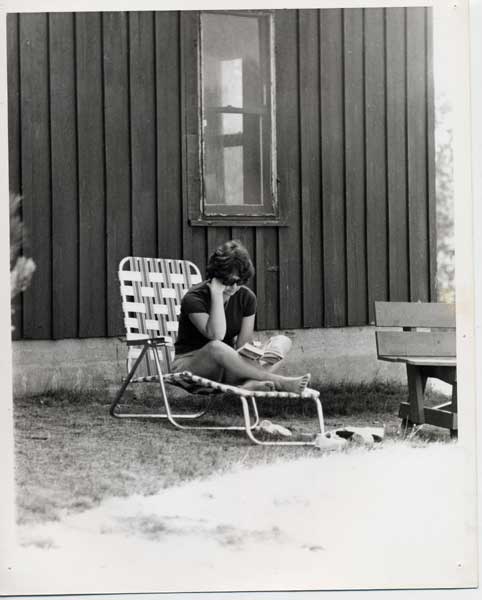 "Not a kid in sight! Carol Spaly"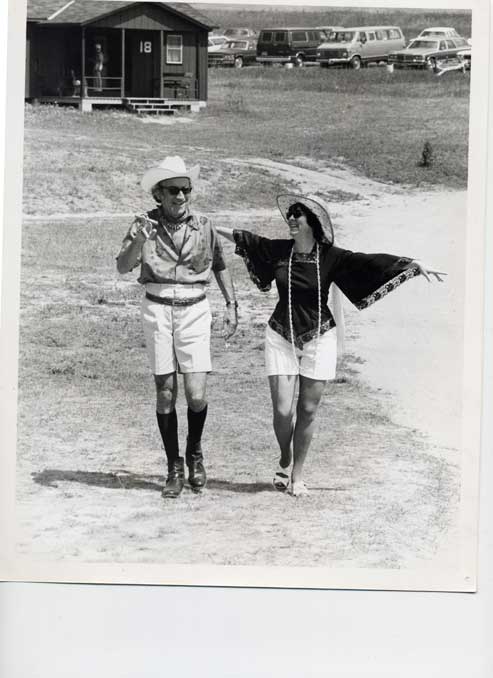 "Sid and Alice Branson Dressed for the 4th Parade"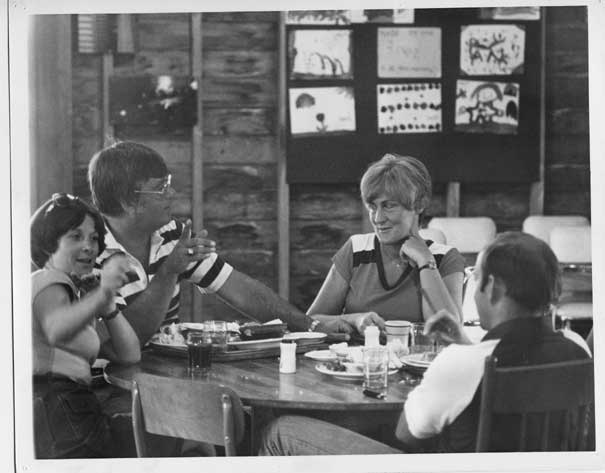 "Jeaniene Haverbush, Andy Czajka, Norma Czajka, Tom Haverbush"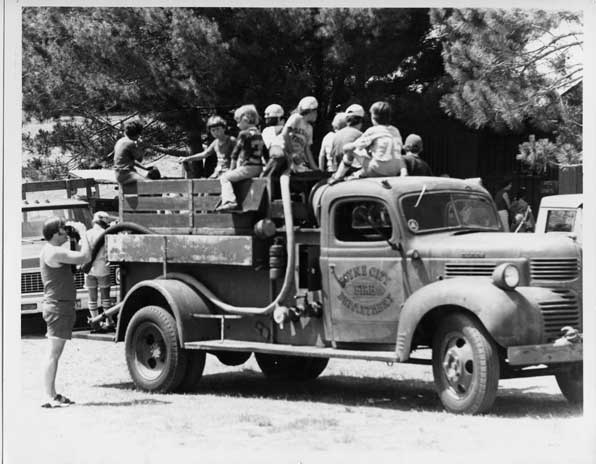 "4th of July Parade and Chuck Miel, Photographer"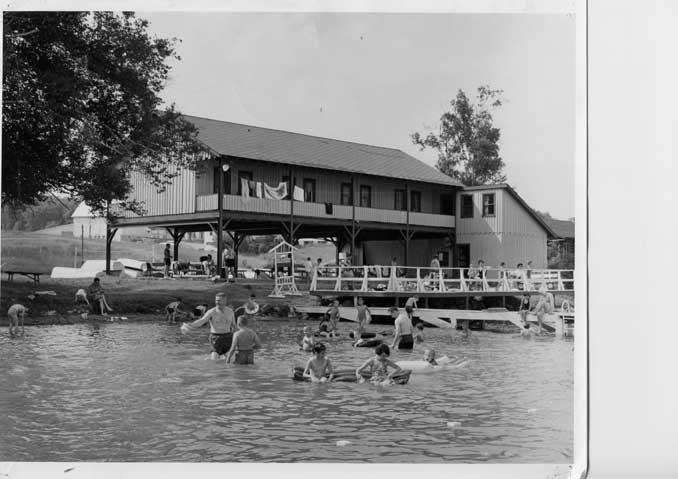 The Nest on Walloon Lake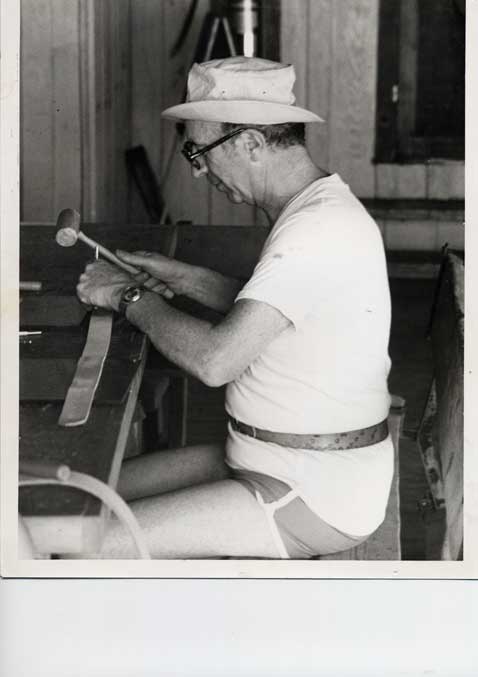 "Mickey Appel -Wearing last year's belt and making a new one."
*This history is basically a quick off the top of my head compilation of what Lyle Taylor and my grandpa, Phil Wehrenberg has told me about the area. I really should sit Lyle down and go through the early history more thoroughly. However, I'm going to count on YOU the long-time campers and Wallooners to help me out on this one.
(1) I can't remember the actual name but it was something very similar to this.
(2) Dickson's Lodge webpage: http://www.fishweb.com/maps/charlevoix/walloon/spillway/index.html
The pictures you see on this page all belong to Camp Michigania and the University of Michigan Alumni Center. Please respect their rights.
Copyright © 2005